Bradley Manning, the suspected WikiLeaks source, is seeking to call several military psychiatrists to testify that he was held in custodial conditions likened to torture against their professional advice.
Manning's defense lawyers have lodged a motion with the military court in Fort Meade, Maryland requesting the appearance of seven medical and other experts at the next pretrial hearing scheduled for 1 October.
The defense team, led by civilian lawyer David Coombs, is trying to have all 22 charges against Manning thrown out of court on grounds that he was subjected to illegal pretrial treatment in violation of the constitutional prohibition of cruel and unusual punishment.
Manning is accused of being responsible for the biggest leak of state secrets in US history. Hundreds of thousands of diplomatic cables from US embassies around the world, as well as warlogs from Afghanistan and Iraq, were published by the whistleblowing website WikiLeaks.
After his arrest in May 2010 at a military base near Baghdad, the young soldier was held at the Quantico marine base in Virginia.
For a period of about eight months at Quantico, Manning was subjected to extraordinarily harsh conditions. This was done, the military claimed, for his own protection under a so-called "prevention of injury" order or POI.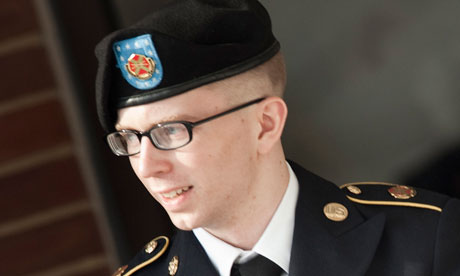 Continue:
http://www.guardian.co.uk/world/2012/jul/29/bradley-manning-…